Doc Farm
Isaac (a.k.a. Doc) Farm was born and raised in the rural town of Nahunta Ga, right next to Okefenokee swamp (alligators and all). Always the class clown in school he would later hone his talents and wit during his stint in the Air Force where he was introduced to the comedy stage. He has not left. You will roar with laughter!!
Known as an entertainer for his diverse background and skills he delivers a show filled with dancing, singing, and all out laughter. As a comedian he was crowned the Funniest Man in Phoenix which led to a trip to Comic Relief. He has appeared at the world famous Apollo as well as a reoccurring appearance on Don't Forget the Lyrics. He travels across the country performing at schools, churches, and comedy clubs delivering the best medicine to fans looking for that something to brighten the day.
Gergory Freiler
Greg spent fourteen years in education honing his comedic skills. Using humor to engage and entertain colleagues, students and occasionally putting a bully in their place. He draws comedy from a unique nomadic childhood, being the child of a stoic immigrant father, personal relationships and yes, even from his experiences as a teacher.
Since taking to the stand-up stage, Greg has performed across US in venues like Gotham, The Ice House, Tempe Improv, and Stand-Up Live. Working with comedians like Bob Marley, David Spade, Ritch Shydner, Louie Anderson, Tom Arnold, Paul Reiser, etc. In 2013, 2014 and again in 2016, he had the opportunity to perform for the military overseas. Greg continues to grow as a storyteller and a truly entertaining and engaging comedian
Michael DeSchalit
Mike is a Multi-Award Winning Magician who has performed all around the globe, from Tucson to Tokyo. He holds all three distinguished awards of Close-Up, Parlor and Stage Magician of the Year. He is a member of The Society of American Magicians, The International Brotherhood of Magicians and The Academy of Magical Arts.
Michael provides the magical entertainment to amaze your friends and family. Michael's shows have just the right mix of magic and comedy to keep his audiences amazed and laughing all at the same time. His "tricks" are very visual and include effects like making a bowling ball appear from a blank drawing pad, and watching as Michael becomes a "rap singer" and raps a funny rap song live, all while doing an entertaining card trick that will keep you guessing until the very end.
Frank Lucero
The L.A. Times said of the outstanding Frank Lucero: "Catch a series of hilarious mariachi impressions by the moustached, guitar-wielding Lucero, whose metamorphoses... leave an audience in a tear-inducing laughter jag." Joking about middle-aged crisis, mariachi music, and life as a Latino living in the United States while putting a Caucasian spin on things, Paul Rodriguez once quipped that Lucero "will be more successful than I am."
Kristopher Royer
Brutally honest and hysterical, Kristopher is one of the Valley's hottest emerging stand-up comedians, and a recent finalist in the Arizona's Funniest Comedian Contest. His clever, yet brutal honesty is in constant demand at every club in town. Recently married, he describes the difficulties of adjusting to living with the most wonderful woman in the world. Realities collide not over which came first, the chicken or the egg, but rather, which is best, such as cage free eggs or free range? As well, Organic or steroid filled chicken?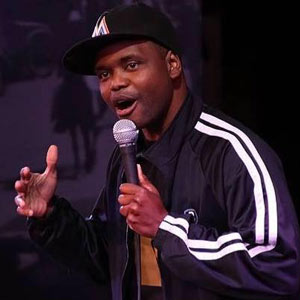 Monte Benjamin
An all around performer, comedian, and actor that's revolutionizing comedy, Monte's clean, high-impact, charismatic style of comedy is a breath of fresh air that will have you in tears with laughter!
He been taking to the stage for more than 20 years, entertaining countless thousands of people all along the way from Tucson to his hometown of Miami, FL. He has worked with comedians like Brodrick Rice, Lil Duval, Ian Bagg, and Thomas Ford of "The Martin Show".